FSR Spring 2022 Drivers Ed VIR Full Course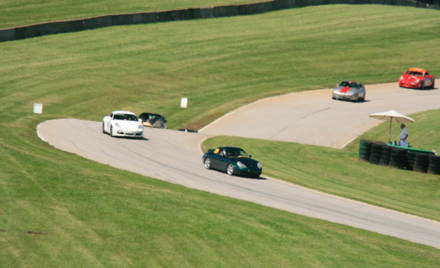 PCA - First Settlers
Friday, Apr 29 — Sunday, May 1, 2022
Virginia International Raceway
,
Alton

,

VA
Registration closed May 1, 2022 9:01 PM at 2022-05-01T18:01:00-0700 Registration ends May 1, 2022 9:01 PM at 2022-05-01T18:01:00-0700 Registration opens March 5, 2022 9:00 PM at 2022-03-05T18:00:00-0800 Registration runs from March 5, 2022 9:00 PM to May 1, 2022 9:01 PM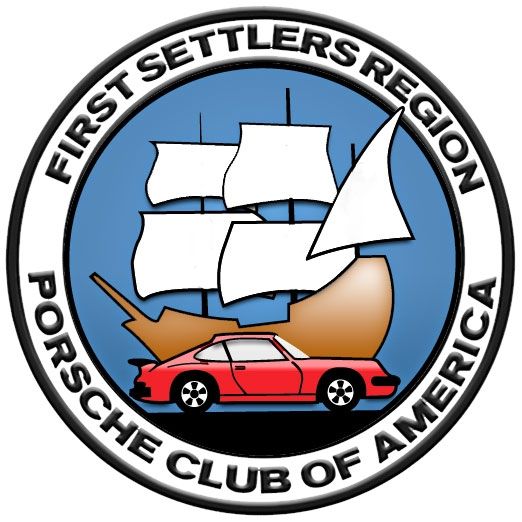 Please join us for our Spring 2022 Drivers Education (DE) at VIR in Alton, VA from 29 April to 1 May 2022. This will be a full format event on Saturday and Sunday with 2 instructed groups and 3 solo groups. Friday April 29th will be a Solo Day for Intermediate, Advanced, and Instructor group drivers only.
Approved solo drivers and Instructors may drive on Friday (Solo Only Day). Instructors, Red, and Black solo drivers with or without VIR experience are approved. Recently promoted White solo drivers without any previous VIR experience may need a recommendation from your Chief Track Instructor to be approved. Novice Students (Green and Blue) are not eligible for the Friday solo day on April 29th.
An instructor will be assigned to Green and Blue drivers. There will be daily classroom sessions for the Green, Blue, and White run groups. Novice students will only be driving on Saturday and Sunday.
If you are signing up as White Intermediate Solo, or Black Advanced driver, you will be asked for references if you have not run with FSR before.
Instructors new to FSR must contact the FSR DE Registrar and/or CTI prior to registering. Please have your most recent club Chief Instructor send a message of recommendation stating you are an instructor in good standing. We prefer those with "instructor training/credentials" from nationally recognized clubs and performance driving programs but ask us if your experience translates into instructing for us.
Registration Fees:
Drivers: $650
Instructors with one student: $325
Instructors with two students: $0 , Complimentary (very limited slots may be open depending on current guidelines for social distancing).
For more information about PCA HPDE events, please see this video filmed during a PCA FSR event. Learning Curves: High Performance Drivers Education
This is a non-spectator event meaning everyone showing up at the track must be registered and wearing the appropriate PCA supplied wrist bands for the event. VIR gate entry wristbands are not PCA issued wristbands.
Volunteers and Crew members: Crew and volunteers must be registered for the event in MSR before registration closes, similar to drivers, with their name, contact info, etc.
We always need volunteers to help us run the event and have positions open such as Tech Inspection, Grid, and registration. Please register for these positions.
Lunch Time Parade/Charity Laps. Crew members and volunteers may do Charity Laps (after paying a small fee that goes directly to FSR charities) in any car that is in suitable condition so as not to leak or drop parts on our track and with seatbelts for every occupant. This is a a great way to enjoy a "lower" speed tour of the track and lasts approximately 20 minutes. For drivers new to the track this is also a great way to pick up reference points at lower (highway) speeds. Please listen for the announcements as time is tight during that period and we need to get everyone on the grid, donations paid, and green flag waving in a very short time.
VIR Policies. Our hosts at VIR appreciate that FSR participants, crew, and event staff are typically considered courteous and knowledgeable of their specific rules before showing up at their facility. Please read these policies at VIR Policies. Remember--camping in your race car trailer is still considered "camping" and the VIR camping fee must be paid in advance at the gate.
COVID-19. Your health and safety are top priorities for all of us involved. Please be prepared to be flexible and understand that COVID-19 restrictions from our hosts at VIR, the Commonwealth of Virginia, and/or PCA can all drive changes in processes and schedules of this event. Specific COVID-19 safety procedures will be released if necessary via email prior to this event and could possibly include mask wearing, distancing, and variations on registrations, driver meetings, classrooms, and other in-person processes so please monitor your email.
Schedule: FSR_spring2022Schedule.pdf
You can also download the TrackKeeper iOS App. It is a convenient "At the Track" schedule manager and time tracking tool with a host of handy features. The TrackKeeper App is suitable to manage time and tasks more effectively and efficiently while you enjoy your track day. A must-have for any track day enthusiast, TrackKeeper keeps all data in sync across iOS mobile devices.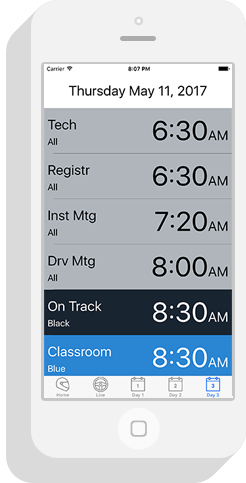 For more information, visit: http://app.mytrackkeeper.com
(If you don't have an iOS device (iPhone, iPad, iTouch), you can access the myTrackKeeper Web App by pointing your mobile browser to: http://www.mytrackkeeper.com)
Are you new to DE and on the fence about whether Driver's Education is for you? Sign up for our DE INTRO! For a $ 95 fee, we'll get you out on the track in your car with an instructor for a single at-speed session mid-day on Saturday. Standard DE safety requirements apply, so you'll need a Snell SA 2020 or SA 2015 rated helmet . FSR has just a few loaners available, so please email the registrar before you sign up if you'd like to borrow one. They will be offered first come first served. You will also need to have your car pre-inspected by a shop prior to coming to the track.
Are you an Advanced driver wanting to step up your game and lower your lap times? Contact the registrar - we can put you in touch with a local yet world renowned pro coach so you can arrange for individualized coaching Any arrangements are made strictly between you and the coach and you must follow all normal PCA FSR HPDE rules and schedules.