Attendee List
FSR Fall 2021 Drivers Ed At VIR Full Course
PCA - First Settlers
Friday, Oct 15 — Saturday, Oct 16, 2021
Virginia International Raceway, Alton, VA
If your status is CONFIRMED, you have been accepted into the event.  If it is NEW or ON HOLD, we're still reviewing run groups and we just haven't gotten to yours yet, or your run group assignment has not been confirmed due to missing driving history (please make sure this is updated and contact the registrar immediately at de@fsrpca.org if it is within two weeks of the event).  Please understand, students requiring instructors are typically held for confirmation until the registrar has a good pool of instructors to pair with students.
A link to the attendee list and instructor/student assignments will be emailed to all participants between one and two weeks before the event.  
Tech Form, Instructor, Student and Event Evaluation Forms, Medical Form, Schedule and Event Package can be downloaded here:  FSR Website.  The event package is now available: Event Information Package.
Sample Event Schedule:  May-17-VIR-Schedule.pdf
You can also download the TrackKeeper iOS App. It is a convenient "At the Track" schedule manager and time tracking tool with a host of handy features. The TrackKeeper App is suitable to manage time and tasks more effectively and efficiently while you enjoy your track day. A must-have for any track day enthusiast, TrackKeeper keeps all data in sync across iOS mobile devices.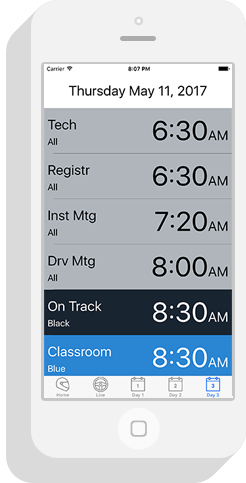 For more information, visit: http://app.mytrackkeeper.com  
(If you don't have an iOS device (iPhone, iPad, iTouch), you can access the TrackKeeper Web App by pointing your mobile browser to: http://www.mytrackkeeper.com)
If you are WAITLISTED, you will be emailed only if a spot opens up in the group you signed up for.  
Thanks for supporting our event!
See you at the track!
No entries are listed - this may be because the organizer has disabled this feature or there are no registrations yet. List updated every 15 minutes.