Air & Auto Classic 11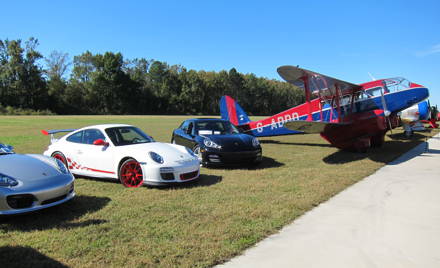 PCA - First Settlers
Saturday, October 7, 2023
Military Aviation Museum
,
Virginia Beach

,

VA
Registration closed October 4, 2023 3:00 PM at 2023-10-04T12:00:00-0700 Registration ends October 4, 2023 3:00 PM at 2023-10-04T12:00:00-0700 Registration opens July 15, 2023 8:00 PM at 2023-07-15T17:00:00-0700 Registration runs from July 15, 2023 8:00 PM to October 4, 2023 3:00 PM


The show is on for tomorrow, 7 Oct. We consulted with one of our local Chief Meteorologists and, based on tomorrow's forecast of 30% chance of showers later in the day and that of the rain date next Saturday, which is more of a rainy day, we elected to press with tomrrow.

If you plan to show up and register on site, please don't arrive before 9AM. The museum has aircraft to move and we can't begin setting up before that is complete.
==================================================================================

Note: Pre-registration is now closed. You can still show up and register on-site for $30 per car. However, we have a limited number of dash plaques and goodie bags, so these items are first come, first served. The capacity of the show field is also not unlimited. The non-judged car-corral is on-site registration only.

Please join us for the 11th Air & Auto Classic charity car show on 7 October 2023 from 11:00AM- 4:00PM at the Military Aviation Museum in Virginia Beach (1341 Princess Anne Road, Virginia Beach, VA 23457). It's a great opportunity to show off your pride and joy, check out the fabulous aviation museum and its collection of vintage aircraft, and contribute to some great charitable organizations.

The show is open to Foreign and Domestic, Vintage, Street Rods, Muscle Cars, Race Cars, Sports Cars, and Late model cars/trucks of all makes and types. "If you're proud of it, bring it." Come out and enjoy live music, vintage aircraft, camaraderie and some friendly car show competition.
Registration for car show participants (pre-registration not required for Regular or Corral parking):
-- Regular Registration: $25 pre-registered, $30 day of show. Includes admission to the entire museum for everyone in your car (normally $15 per adult and $7.50 for kids), along with an Air & Auto Classic 11 dash plaque for the first 150 registrants.

-- Rockstar Parking Registration: $50. Includes all of the above, plus a show t-shirt and parking in a special area on the flight line. You'll also be making a larger donation to charity! Rockstar registration is extremely limited (only 25 spots) and can only be done online via this website.

-- Non-Judged Corral Parking: $15. Non-judged parking adjacent to the flight line. No need to pre-register for this option, just show up and pay when you arrive. This option includes a dash plaque (while supplies last) and admission to the museum.

-- Spectator attendance: $30 per car for multiple occupants, or $15 per single occupancy car or motorcycles at the gate. Includes Museum entry for everyone in your car.

Event t-shirts are available for $20 each, while supplies last.

If you want your car to be judged, we ask that you arrive between 9:00AM - 11:00AM. There will be trailer parking available.

Proceeds from the show will benefit the Foodbank of Southeastern VA and the Eastern Shore, Horizons Hampton Roads, Samaritan House and the Childrens Hospital of the Kings Daughters. Donations may be made by clicking on Register Now

Enjoy live music, vintage aircraft and other historical items in the museum. Great food will be available as well as beer and wine. We'll have many great items for raffle at $1 per ticket, as well as a 50/50 raffle.

Awards/Trophies: We'll have 1st/2nd/3rd place awards in each class both for Import and Domestic groups in Vintage, Classic, Mid-year, Late model and Modern classes as well as Import and Domestic People's Choice awards.

The rain date is 14 October. In the event of a total weather cancelation, we'll mail your dash plaque and any t-shirts that you may have ordered, and the rest of the proceeds will go to charity.

This is a charity event. After the bills are paid, ALL proceeds go directly to charity. These benefiting charities have received over $85,000 since Air & Auto Classic 1 back in 2010 thanks to our attendees and generous sponsors!

If you have any questions, please contact the Event Registrar, George Michaels, at registrar@fsrpca.org

,

(757)818-4873

.





If you prefer to register by mail, download the registration:

A&A 11 reg form.xlsx

Download the show flyer: A&A 11 Flyer MASTER.pdf
If you'd like to volunteer to work a shift or two, just hit the continue button. You can also sign up for the show AND volunteer!